---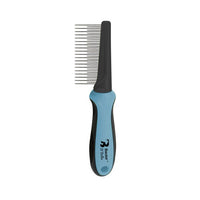 Baxter & Bella Shedding Comb is the perfect grooming accessory for your best friend. Designed with two different lengths of metal teeth to aid with removing debris, loose hair, tangles, mats and lifts shedding hair from dog's undercoat. The comb is comfortable to hold thanks to its non-slip, ergonomic handle for a fun and pleasant grooming experience. 
Baxter & Bella Shedding Comb is available only in on size and suitable for long-haired dog breeds.
With the shedding comb, gently place your fingers between the comb and your dog's skin to reduce pulling. Then gently brush down and away from your dog's skin, never brush against your dog's coat. It's recommended to brush your dog before bathing as mats may tighten when wet.