---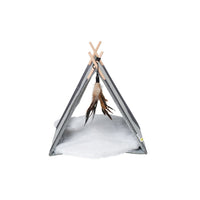 Felt tipi for small and medium cats.
Your kitty will love the time they spend in the Be One Breed Felt Cat Tipi with Soft Blanket. This great product may be used with the Katt3 car house or alone, and features a felt tipi with a white faux fur blanket and a feather toy.
Features: Comfy hide-out, soft blanket
Includes: 1 tipi, 1 blanket, 1 feather toy, 4 poles
Intended Pet(s): Cat
Material(s):
Tipi: felt
Blanket: polyester
Poles: wood
Toy: feathers
Care Instructions: Hand wash in cold water with soap. Let air dry.