---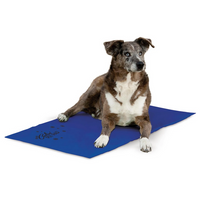 The Coolin' Pet Pads™ are the ultimate in affordable cooling for pets. They can be used stand alone or placed on a pet's bed.
 Not recommended for destructive pets
Cooling dog bed uses no electricity and contains no toxic gels; it wicks heat out of your pet and releases it into the air, keeping fido or kitty cool
Provides cooling comfort and support for pets with arthritis, hip dysplasia, excessive panting, and can be placed on top of pet bed's for chilled comfort
Recommended for indoor and outdoor use, just add water to provide consistent cooling comfort for your pet. Plus the cooling pad is lightweight for convenient travel and easy set-up.
No toxic gels in this cooling pet bed, perfect for cats, dogs or any other animal that may need to chill out. Coolin' Pet Pad will not turn hard or deteriorate like other brands