---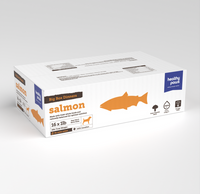 *This item is frozen, and therefore cannot be shipped
Suitable for dogs over 40 pounds.
The salmon used in our formulas is non-farmed, wild-caught Sockeye from the Pacific Northwest.
Salmon is low in saturated fat, a source of high-quality protein, and contains other essential nutrients such as vitamin D, zinc, and selenium. The Omega 3 fats found in salmon have contributed to a healthier immune system and reduced the risk of specific cancers and age-related macular degeneration in the eyes.
Our Big Box Dinner Salmon contains our Fibre-Rich Green Vegetable Blend and Atlantic Sea kelp.

INGREDIENTS: Whole salmon, kale, romaine, celery, cucumbers, Atlantic Sea kelp