---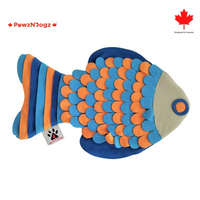 Looking for something to tire your small pet?
Looking for a snuffling experience for your cats, rabbits, chinchillas, hamsters and guinea pigs? 
Do you wish to slow down their pace of eating? 

PawzNDogz presents various designs of Snuffle Mats that will keep your fur baby's brain active and stimulated ! Hide some dry food / treats in the folds of the snuffle mat / toy and watch your dog hunting them by using their "sniffing skills" to locate the tasty stuff. The soft yet durable machine-washable snuffle mats / toys have multiple level of challenges embedded in the designs to tire your pup / dog absolutely by burning their energy via sniffing. These snuffle mats not only are energy consumers and boredom-killers, but also function as slow feeding toys to prevent your pet from gulping down food in a jiffy. The slow feeding process reduces the speed of eating by 5x - 10x and give your pet the required mental stimulation too
Eating and treating has never been more fun !
The simplistic design of the fish is perfect for small pets getting started on a PawzNDogz snuffle Mat. The bright, flamboyant colours remind us of the beautiful marine life in all its glory. Easy to wash and dry, the hang loop also offers perfect storage of the mat