---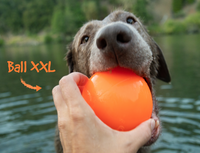 The BALL XXL 4″ diam. for large dogs over 40 lbs.
Currently only available in neon orange.
We created the BEST BALL EVER!
Indestructible with a Lifetime Guarantee.
Heavy duty solid rubber balls come in 3 sizes and an assortment of bright neon colors.
These indestructible balls float, and take serious abuse during heavy play, but stay gentle on teeth and gums for long-lasting playtime. These balls are sog-free and washable, super bouncy for active retrieving, and the high visibility colors mean no more toys lost in the grass or water!
If your dog damages her Ball, dont panic, we've got you covered with a replacement guarantee! Visit ruffdawg.com for more details.