---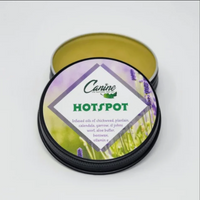 Made right here in Newfoundland!
Made with wild plants of Newfoundland known to assist in healing of inflammation on skin such as hotspots. Will decrease itchiness, including anal area to reduce bum scooting. Hotspot Salve will give instant and visible relief from painful irritation and itching caused by a hotspot.

Hotspots are sores caused by environmental allergens, food reactivity, liver congestion, swimming, bug bites, fur matting, or lack of grooming.
Also useful on any inflamed areas such as bug bites and rashes.
When a hotspot occurs, you must trim the fur on and surrounding the area to allow air in, Clean with saline, pat dry, and apply Magic Mud or Hotspot Salve.